3 Reasons to 'NOT' Quit Using Chat Rooms
3 Reasons to 'NOT' Quit Using Chat Rooms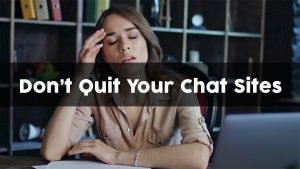 Anyone who uses chat rooms frequently, there has probably been a time that you've wondered if you need to quit. Some people might say that talking online means you're wasting time or avoiding things that matter in life, like in-person interactions.
But they can actually serve a great purpose, such as having support groups and practicing social skills.
So no, you probably don't need to quit chat rooms. But you should make sure you're getting a balance of real-world and internet interactions.
---
Connect With Anyone
Chatting online lets you connect with all different types of people. Furthermore, it can act as a support network when times are tough. So you can actually make healthy connections which become your go-to for talking about sensitive topics.
Strangers you meet may even end up as long-term friends across mediums like social media, email, and more.
---
They're Always Available
If you do decide that you need to take a break from chatting at a certain point for any reason, you can always come back. It doesn't have to be an all or nothing kind of thing. All it takes to leave a chat room is the simple click of a button, and you just have to click a few more to come back. If you are feeling too emotionally or mentally taxed by chatting online, go enjoy life for a few days!
---
Keeping it Balanced
It's important to keep in touch with life while having a balance of online interactions. Are you spending more time on the internet than in the real world? Then simply schedule some time to go out. If you don't have someone to hang out with, go to a park or hang out at the mall so you can at least be around others!.
That way, you'll be able to enjoy chat rooms even more!
---
About The Author. — Menomg is an expert in communication and contributor to Joingy, a chat app to meet strangers. Visit their Official Blog for guides on similar chat topics.