Best Chat Sites: Picking the 'Right One' (For You!)
Best Chat Sites: Picking the 'Right One' (For You!)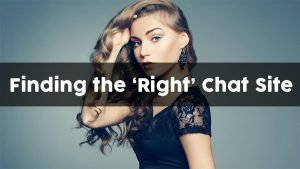 Those who like to make new friends online, like you, have probably gone to countless chat rooms looking for entertainment. It can take a long time to figure out exactly what makes one actually enjoyable.
So follow these tips to pick the right chat site for you!
---
Choose a Subject
There are some general chat rooms out there, but most are on a specific topic. If you go into one about cars or motorcycles, and you don't have a care in the world about automobiles, you might be pretty bored. However, it's not always that obvious what you will or will not enjoy so you might be surprised to learn you enjoy a spicy chat room on a hot fetish topic you didn't know interested you or scholarly topics that you used to think was boring.
---
2. Stay Cautious
If there are two guys in a chat room ruining it for everyone by being rude, don't let that taint your opinion as a whole. However, if everyone in the chat is being mean, then it may be time to move on to a new room. Make sure you consider things carefully and give it a chance, but get out soon enough if things are truly rude or mean. You might also have to explore a bit before you simply find the people you vibe with!
---
Have Confidence
You are cool and people want to talk to you. Anyone who says otherwise is just plain dumb and rude. If someone teases you, get out of there quickly and report that person to a moderator. Go into a chat room with confidence knowing that people want to talk with you and that you have interesting things to say. That will make it easier for you to make online friends quickly, and find the website that you love the best.
---
Site Compatibility
Obviously, the most important aspect of choosing a chat room for you is making sure you're compatible not only with the topic at hand but also the people. Some people might be nice, but you just don't vibe well with them. Other people might be in their 20s while you are in your 50s so you don't have much in common. Find your tribe and stick with them, while still exploring other platforms.
---
About The Author. — Menomg is an expert in communication and contributor to Joingy, a chat app to meet strangers. Visit their Official Blog for guides on similar chat topics.