Bored of Chat Rooms? – 3 Ways to Spice Things Up!
Bored of Chat Rooms? – 3 Ways to Spice Things Up!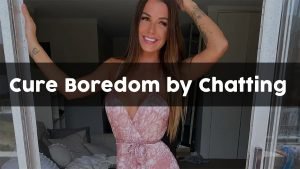 When you chat online, sometimes things can feel stale or boring. However, there are several ways to get out of that rut and spice things up!
How do you do this? Keep reading to find out!
---
1. Create a Profile
Many online chat sites allow you to make a personalized profile. Sometimes, you can completely customize it to make yourself stand out. Adding an 'About Me' or a few images is a good place to start. However, for those not feeling too imaginative, you can try making a creative username. Although, don't let it get too crazy. Choose phrases that actually reflect who you are and what you want to achieve on the chat site.
---
2. Trying Being Unique
Don't be like everyone else! Make your online presence special. Create a strong introduction so that members will remember you. Ask questions so people will interact with you or try something new that is a bit experimental. Basically, be unique, yet still nice. Act like someone who would entice you into friendship. Use your imagination when deciding how to present yourself. And most importantly, avoid general terms like "nice, smart, and funny."
---
3. Ask Silly Questions
One way to start people chatting online is to ask silly questions. It can be something like "What is your favorite color for shoes?" or "What food would you most like to wear as a dare?" These types of questions will start hilarious conversations that will make people remember you as an interesting person. You don't have to be perfect online, but you can be interesting at the very least! Remember, if people are having fun, then you are inspiring both them and yourself!
Overall, add creativity to the chatting experience. After putting integrating this energy toward your text, people will enjoy your company more and come back to talk again.
---
About The Author. — Menomg is an expert in communication and contributor to Joingy, a chat app to meet strangers. Visit their Official Blog for guides on similar chat topics.