Video Chat Rooms: 3 Tips For Using a Webcam
Video Chat Rooms: 3 Tips For Using a Webcam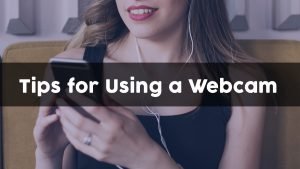 Chatting online is not just about typing onto your keyboard. Nowadays you can also use your webcam to take your chat to a whole new level. Most modern chat rooms have webcam and microphone features so you can talk to your friends. These features make chat room experiences even more enjoyable. However, you need to get prepared before you use the webcam feature, so keep reading to learn all about it!
---
Tip #1: Ensure it Works
When you get a new webcam, you should test it out before you chat online. That way you won't have any technical problems when you are trying to have a conversation online. The other thing you should do is make sure to review the settings of the website so you can understand who may see your webcam feed. You might not want every single person to be able to watch. Also, understand any privacy settings for whichever site you're using.
---
Tip #2: Dress to Impress
Read up on what type of website you are on. If the website is not adult-oriented, you want to be fully clothed when going onto the cam. Furthermore, always groom yourself before doing any kind of video sex chatting. But anyone who's just hanging out with friends online, you could hop on webcam in your pajamas with messy hair! Regardless, make sure what you're wearing is appropriate for the situation and you'll have fun!
---
Tip #3: Always Be Safe
When you are on camera, it's important to stay safe. Do not reveal things that would give away your location on webcam. Hide your mail or anything with your legal name or address. Make sure credit cards are out of view, or any family photos. Be very careful what people can and can not see on camera. You do not know who you are really dealing with in online chat rooms so proceed with caution.
Discover how much fun you can have chatting with others while using your webcam. So head over to your favorite chat room right now and try it!
---
About The Author. — Menomg is an expert in communication and contributor to Joingy, a chat app to meet strangers. Visit their Official Blog for guides on similar chat topics.